The mission of the Air Quality Committee is to develop and conduct educational programs related to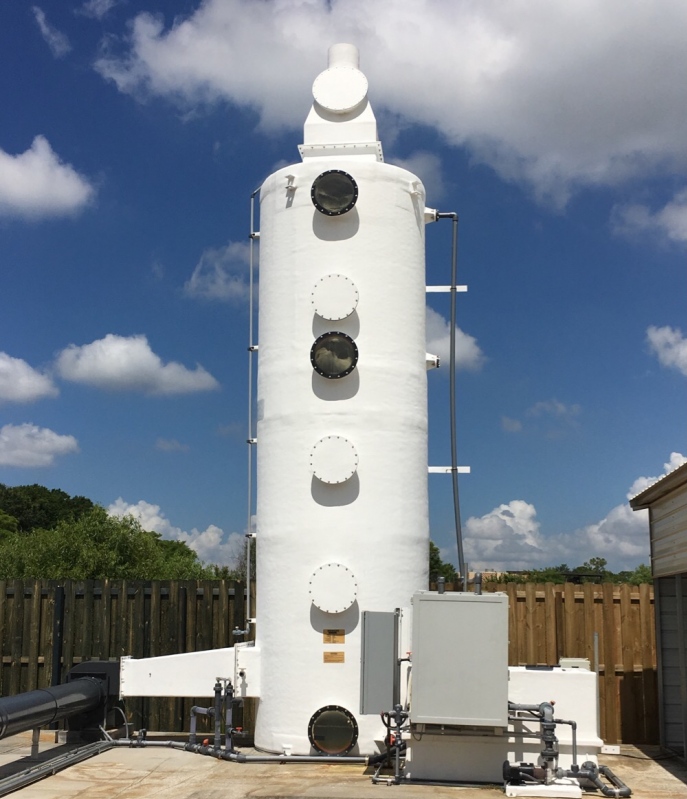 air quality control within Florida's wastewater field. The committee works to achieve this by conducting annual workshops on air quality and odor control.

The FWEA Air Quality Committee presents an annual Environmental Stewardship Award for Odor Control at the Florida Water Resources Conference. We encourage utilities to submit applications for this award. Please visit the Awards Page to view the Selection Criteria for this award.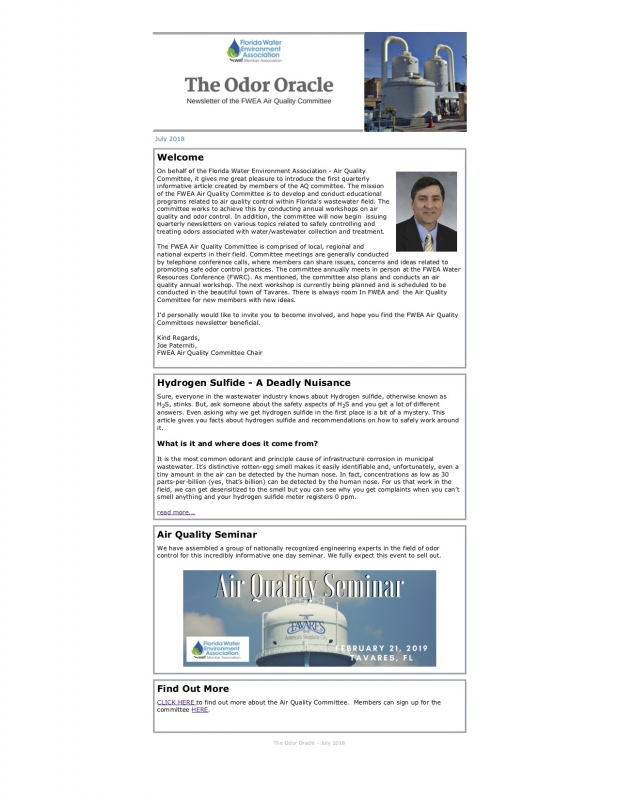 The Air Quality Committee has just launched The Odor Oracle, a quarterly newsletter with topics of interest for FWEA members.
Committee Leadership
Chair
David J. Hunniford, PE | V & A Consulting Engineers
(941) 928-3421
Co-Chair
Eric Hansen | Evoqua
(951) 326-7415
Secretary
Ryan McKenna, PE, CPM | Hazen and Sawyer
(813) 682-1213
CEU/PDH Educational Coordinator
Larry Hickey | Equipment Plus Solutions, Inc.
(352) 237-1869
Past Committee Chair
Robert Jeyaseelan | VAPEX Environmental Technologies
(407) 977-7250 x111
Webmaster
Skip Beach | R.C. Beach & Associates, Inc.
(727) 736-3696
Members
Michael Acra | In-Pipe Technololgy
(847) 804-8258
Danielle Arney | Evoqua Water Technologies
(941) 313-6597
Juan Arteaga | Collier County Utilities
Nathan Arthur | Vapex Environmental, LLC
(407) 367-8665
TJ Black | Hillsborough County Public Utilities
(813) 264-3850
Philip Clark | City of Tavares
(352) 742-6485
Michael Coletta | Odyssey Manufactuing
(401) 644-4875
Chad Collier | ECO2
(302) 222-0932

Rob Gaylord, PE, ENV SP | Brown and Caldwell
(813) 371-9303
Vaughan Harshman, PE | V & A Consulting Engineers
(941) 928-0453
Tom Menke | Pinellas County Utilities Engineering
(727) 464-4000
Darrell Milligan | DOer Products and Services
(386) 854-1471
Darryl Parker | Lee County Utilities
(239) 357-0246
Joseph Paterniti | Clay County Utility Authority
Assistant Chief Engineer
(904) 424-2412
David Pickard | Premier Magnesia, LLC
(813) 928-2793
Alison Trollier | Eco2
(727) 434-6473
---