Water Festival
2nd Annual Florida Water Festival


November 3, 2012
9:00 a.m. to 2:00 p.m.
Cranes Roost Park
Altamonte Springs, FL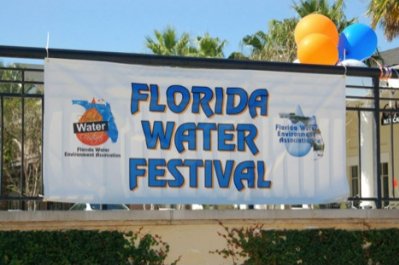 FWEA's premier annual event, the Florida Water Festival is a unique learning opportunity for children and adults alike. The free to attend event is designed to educate the public at large of the importance of protecting Florida's precious water resources.
See what it is like to have to carry water from a distance as many in the world still must do by participating in the one mile Walk for Water. You will learn facts about water around the world as you walk.
The Festival features fun and informative activities, enlightening displays explained by water experts, and interactive demonstrations. Raffle Prizes are given throughout the day.
Water quality professionals from public utilities and private sector companies are present to answer questions and share their passion about protecting our state's most valuable resource – WATER.

THANK YOU TO OUR SPONSORS!

---


PLATINUM SPONSORS

---

GOLD SPONSORS

---

SILVER SPONSORS

---

BRONZE SPONSORS

Activities:
MAP OF ACTIVITIES
ACTIVITY DESCRIPTIONS
This year's Florida Water Festival takes place from 9 a.m. to 2 p.m. November 3, 2012, at Cranes Roost Park in Altamonte Springs, FL. Please join us!
If you would like to join the Florida Water Festival Committee, participate in or sponsor the event, or have any questions contact Stacey Smich or Robert Cadle (sponsorship).
Sponsor the Festival
Sponsorship Letter
Sign Up to Volunteer